Kids Karate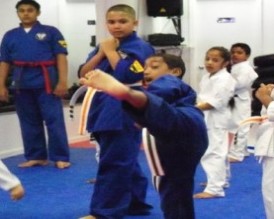 Our Kids Karate program focuses on the values that kids need the most; Focus, Discipline, Respect, Confidence. We teach these values through exciting high energy classes and have witnessed the transformation of our students as they grow through our system.
Read More
Muay Thai Kickboxing
Dynamic Martial Arts Academy's Muay Thai Kickboxing class focus on detailed striking, techniques, combinations, clinches, counters and defenses all while getting you in great shape, improving you confidence, and increasing your coordination and strength.
Read More
Beginner Classes Enrolling Now! Kid's Karate Teaches Discipline & Self Confidence!
Experience the Best Karate School !
See results in no time! We are conveniently located near Glendale, or Jamaica, New York. If you want to get in shape and learn real Kids Karate, Krav Maga and Muay Thai Kickboxing then Dynamic Martial Arts Academy is the perfect place for you!